16. March 2017
Harvesting cultivated seaweed with Ocean Rainforest
Anja Mazuhn / My Faroe Islands
September 12, 2016
Excited. Wearing my rain gear and a working helmet. The boat Tongul is on its way from Funningsfjørður harbor to the aquaculture site north of the village of Funningur. A spot I am familiar with: Each time I look out of our living room window, I catch sight of it. Well, kind of, since the interesting thing about this place lies hidden beneath the surface. A huge cultivation rig for seaweed. The work of Ocean Rainforest, a pioneering company engaged in the production of marine biomass from macroalgae in open ocean cultivation installations.
In March 2010, the rig was deployed to the location. Ever since then, the construction withstood winds up to 62 m/s and wave heights of 12 meters. No massive waves today, just the normal up and down. On the surface of the water: yellow buoys. Far below: Seaweed seed lines. Basically, vertical lines attached to a main horizontal line. A construction moored to the sea bottom, by chains, ropes and anchors. Further details: a valuable trade secret of Ocean Rainforest.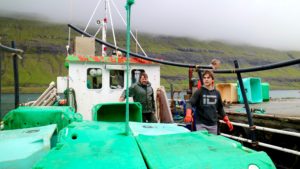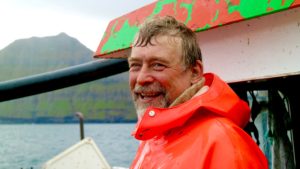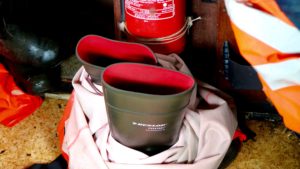 Manbjørn í Grund is our skipper, meanwhile Steinbjørn í Dali, member of the Board of Directors at Ocean Rainforest, operates the crane that lifts the first seaweed seed line, sky-high. At this very moment, we are truly standing right in the middle of an ocean rainforest, with water pouring down from a whole bunch of algae, upon hoods and helmets.
Ocean Rainforest has set up 13.500 meters of seaweed seed lines in the Faroe Islands so far, the two sites are located in Funningsfirði. The waters of the Faroes are perfectly suitable for seaweed farming, Ólavur Gregersen, Managing Director at Ocean Rainforest, tells me. Because they provide both constant current (ongoing water exchange) and stable water temperature (8-12 degrees Celsius). Why would warm water be bad for the cultivation of marine biomass? "If the water temperature goes up too high, other species will overgrow or eat up the algae."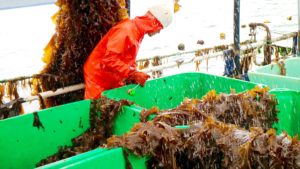 Food, feed, cosmetics, pharmaceutical, nutraceutical and energy products: The worldwide market for marine biomass is expected to grow immensely. Therefore, many issues have to be dealt with, also at Ocean Rainforest. "One of them is the general lack of legal framework, in terms of licenses and rules for competing industries around coastlines", Ólavur Gregersen explains the situation. "As a result, our license is bound to Bakkafrost's salmon farming license thus far."
At this point in time, Ocean Rainforest, as a company, is half research, half commercial, with Hortimare (Holland), Matís (Iceland) and the Danish Technological Institute as main partners. Samples are taken on a regular basis. "We cannot see any pollution in our cultivated macroalgae",  Ólavur Gregersen tells me. And that one kilo of wet weight equates to 100 grams dry weight.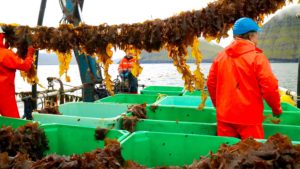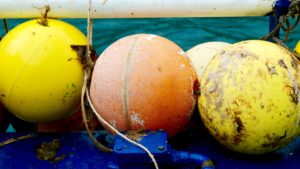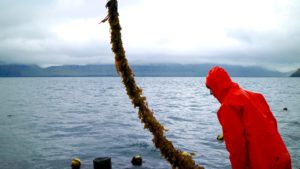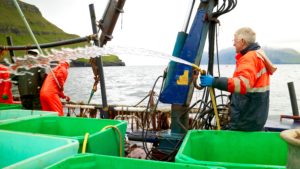 Ocean Rainforest delivers frozen and dried products. The company has customers from the UK, the Netherlands, Germany, Denmark, Estonia and Canada. The 2016-harvest will add up to about 60.000 kilos algae. Four varieties, sugar kelp, winged kelp, oarweed and dulse. On board the vessel Tongul, knives are cutting through large pieces of seaweed. The sound: crunchy. Have you ever examined seaweed, held its fantastic structure up to the light? What it tastes like? Fresh. Salty. Crispy.
Ocean Rainforest's aquaculture site north of the village of Funningur. As I said before: The interesting thing about this place lies hidden beneath the surface. According to Ólavur Gregersen, this is what we are talking about: "The largest macroalgae cultivation activity in the world deployed in an open sea environment with more than 50 meters water depth." Now that's what I call impressive.